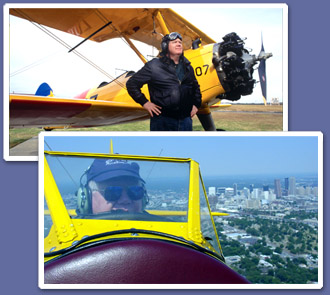 Welcome to Biplane Rides Over Atlanta, Inc.
Biplane Rides Over Atlanta, Inc. is an Atlanta-based company which offers rides, sightseeing tours and aerobatic flights for hire to the public in the Boeing PT-17 "Stearman" (single seat open cockpit biplane), the Waco (two seat open cockpit biplane) and the venerable North American AT-6 "Texan" (WWII advanced combat trainer). Each of these aircraft are fully restored and among the finest examples of their kind in the country. We are committed to the preservation of these historically significant aircraft. Our current plans include the development of a non-profit museum know as the Atlanta Air Corps and the acquisition and restoration of other vintage warbirds.
We deeply appreciate your patronage!
Your support enables us to restore and maintain these aircraft for the enjoyment of thousands who would otherwise never have the opportunity to experience this "50 year flight back in time".